How to Know if Your Electrical Panel Needs an Upgrade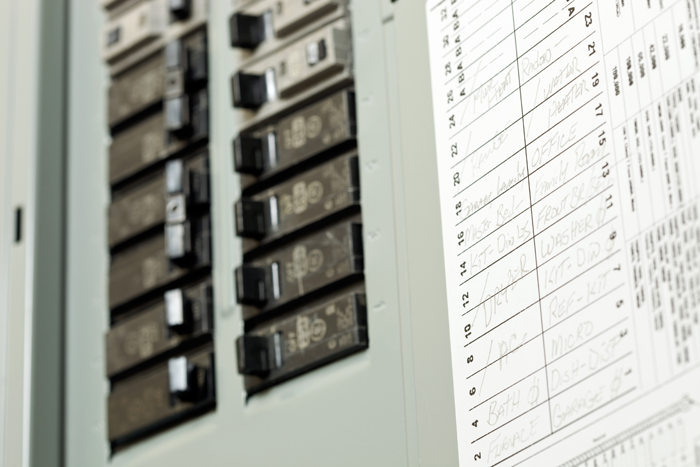 Your electrical service panel box is essential to your home's functioning. Often referred to as a breaker box or circuit breaker panel, an electrical panel is an enclosed, steel box that houses your electrical system's circuit breakers, which are switches that regulate your home's power supply.
Unless your power goes out, you probably don't think very much about your electrical panel. You turn on your appliances, connect to your wifi, and go about your day. You might not realize how integral it is to the operation of your home.
All your home's power is in the service panel. If you have a house built before the mid- 60s, you may still have a fuse box, which often has four fuses. A typical 60 amp fuse box might have one fuse for a 240-volt circuit for an air conditioner or electric stove, leaving the other three fuses for the rest of the wiring in the home. This is inadequate compared to the minimum number of circuits required today.
According to Popular Mechanics, a 200-amp breaker is appropriate for a home upwards of 2000 square feet. Smaller homes can use 150-amp or 100-amp, and more modest households and subpanels can use as little as 50-amp. Power comes into the house, connects to the service lugs within the service panel, and is split into separate circuits throughout the house.
Circuit breakers prevent short circuits or overloaded circuits by interrupting the flow of electricity as soon as they detect one of these issues.
You can reset a circuit breaker when your system causes a breaker trip, and the problem is resolved. But if the breaker trips regularly, it's an indicator of either an overloaded circuit or a malfunctioning circuit breaker. If the breaker won't remain reset, you need an electrician to replace it.
An out of date electrical panel can cause serious electrical hazards - which can quickly turn into fire hazards, putting your entire electrical system - and your whole house – at risk. Make sure your electrical panel is up to code for your usage to keep your home safe.
Do Your Lights Often Flicker or Dim?
Lights should only flicker or dim if they're on a dimmer switch - for any other reason, dimming or flickering lights means you've got a problem. If your lights lower when you use appliances (like a washing machine or air conditioner) that's a signal that your electrical panel needs some work.
Do You Smell Something Burning?
Burning or melting is never a good sign when it comes to your electrical system. Burning and melting will often lead to a fire. If you smell any burning coming from your electrical panel, cut your power and call an electrician immediately.
Also, a warm panel is often a signal of frayed or damaged wires behind the panel. Wires are designed to keep heat contained. If they're no longer doing that, you're running the risk of an electrical fire, and you need to get your panel fixed as soon as possible.
Do You Have an Appliance That Causes Frequent Breaker Trips
Appliances like hairdryers, electric fireplaces, and microwaves require a lot of power to operate. If your breaker frequently trips when you plug in an appliance, then it's time to take a closer look at your overall system. If your system is functioning correctly, it should be able to handle these appliances without issue, but if your panel is old or malfunctioning, it may not be equipped to handle the powerful pull of large appliances. In which case, it's high time for an upgrade.
If you are installing new appliances that require a lot of energy such as a freezer or air conditioner, your electrical panel may not be adequate to run these appliances, especially if you are adding these appliances, not replacing them. You may need to increase your amps of power to cover the additional load.
Are You Adding New Technology and Appliances?
In today's fast-changing world, new or better technology is introduced every day. Bigger smart TVs, security systems with full camera set-ups, and home theater systems are becoming more and more common in homes. Your electrical panel needs to keep up with the power demand, so if you haven't had your panel replaced in the last 20 years it's probably time to update your system.
Do You Need to Upgrade Your Electrical Panel in Nassau County or Suffolk County?
If it's time for an electrical panel upgrade that doesn't mean you need to stress. Contact a qualified, licensed, Long Island electrician to help upgrade your system and keep your home safe and functioning for years to come. Dawn Electric of Long Island is a leading provider of commercial electrical services as well as residential electrical services for your home on Long Island for over 45 years, proudly offering electrical services throughout Suffolk and Nassau counties.
Our team of licensed electricians and contractors have been providing electrical solutions in West Babylon for more than four decades. Expert installations and repairs of 110-volt, 220-volt, and 480-volt and higher electrical systems for residential, commercial and industrial businesses. We provide reliable single and three-phase services, including complete indoor and outdoor lighting installation. Need to replace and rewire your commercial exhaust fan or a control panel upgrade? We can help. Call or e-mail Dawn Electric today.
Call Dawn Electric today at 631-582-8686 - Helping Suffolk and Nassau County Since 1968
Commercial Electrician
Power and lighting utility services
Control wiring
Instrumentation devices or wiring
Control panels and integration
Industrial freezers
Heating systems
Residential Electrician
New construction
Renovations and remodels
Tenant improvements
Electrical service upgrades
Exterior and interior lighting
Landscape lighting
Retrofits -LED lighting
Service installations
Electrical repairs and upgrades